Secure your domain name, custom email and get a simple website setup using a premium theme.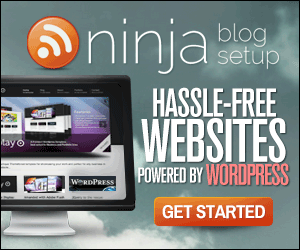 If your business is looking for a high quality at a low cost, we recommend WordPress installation from Ninja Blog Setup to develop free, basic & standard websites. Ninja Blog Setup will install and configure the WordPress content management system (CMS) on your hosting account. WordPress allows you to update your own site by simply using your web browser. The site and design are fully upgradable at any time.
Design Choices:
Is this Setup Right for You?

This is a great package if your business is on a budget but and you need a little bit of help getting started. You should be prepared to selecting a theme yourself, send your FINAL content for adding into the site and spend time learning how to use WordPress for both adding and editing content and with additional theme customization. This is NOT for everyone! If need help with this process, please upgrade to our Deluxe Setup Package.
Setup time includes:
Homepage, 5 static pages + blog setup + contact form
Up to 3 hours of customization
Social media integration
Adding FINAL content
Getting Started is Easy!
Get your domain name.
Get web hosting.
Select a design from the choices above.
Contact Ninja Blog Setup.